Chef Ajok's journey from his birthplace in Kerala, India, to becoming an executive chef in Nairobi, Kenya, is truly inspiring. Kerala is often referred to as "God's Own Country" due to its natural beauty and cultural richness, which includes a diverse and flavorful cuisine.
Kerala is famous for its spices, coconuts, and a wide range of ingredients that contribute to its unique culinary heritage. Chef Ajok likely developed his culinary skills by growing up in such a food-centric environment.
He gained remarkable skills and international accolades, he expanded his culinary horizons by working in different countries and experiencing various cuisines and culinary techniques. This international experience would have exposed him to a wider range of flavors and cooking styles, enriching his skills and knowledge as a chef.
Now, as an executive chef at an international pre-opening hotel in Nairobi, Kenya, he has the opportunity to showcase his culinary masterpieces to a global audience. Nairobi is a vibrant and diverse city with a growing appreciation for international cuisine.
His journey exemplifies the power of passion, dedication, and a love for food in the world of culinary arts. It's a testament to how someone can start in one corner of the world and end up making his mark globally.
Chef Ajok's impressive list of awards and recognitions from prestigious culinary competitions and organizations such as The Emirates Culinary Guild in Dubai and the World Association of Chefs Society (WACS) demonstrates his exceptional talent and dedication to the culinary arts.
Some of the notable awards he has achieved include:
Hans Bueschkens Trophy: This is a highly prestigious culinary competition, and winning this trophy is a significant achievement.
Johnson Diversey Best Hygiene Award: This award highlights not only his culinary skills but also his commitment to maintaining high standards of hygiene in the kitchen, which is crucial in the culinary industry.
Silver Medal for Hans Bueschkens Junior Chef Challenge: Winning a silver medal in a competition like the Hans Bueschkens Junior Chef Challenge is a remarkable accomplishment, as it showcases his culinary abilities among a pool of talented chefs.
The Emirates Salon Culinaire: Being recognized with various awards for practical cookery at The Emirates Salon Culinaire by the Emirates Culinary Guild is a testament to his excellence in the culinary arts.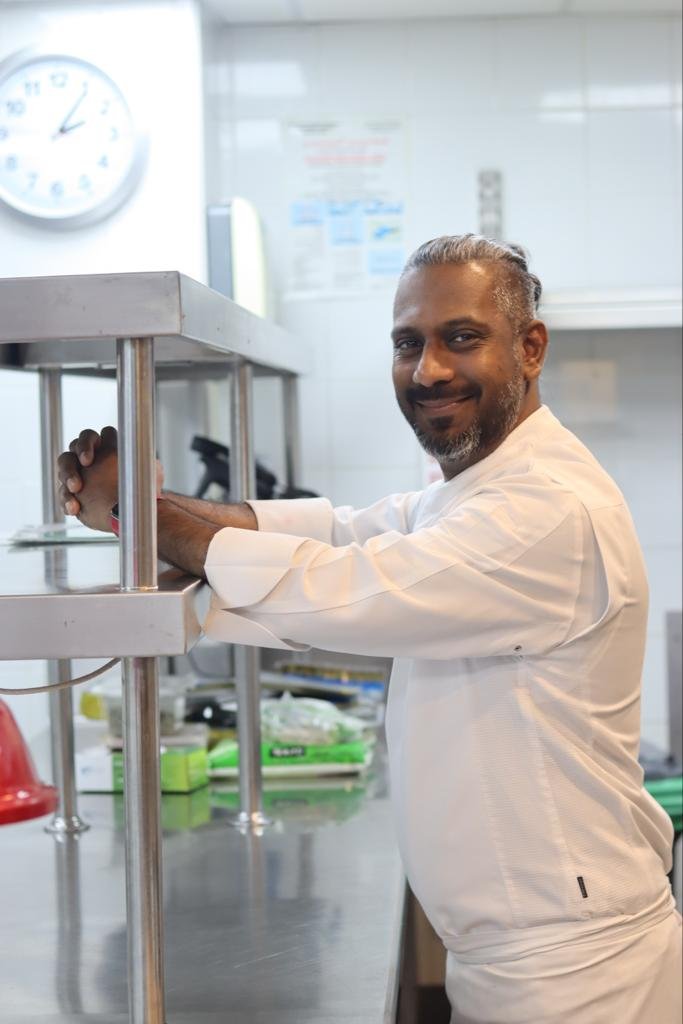 Now let's take a deeper dive and hear from Chef Ajok:
I am a passionate Chef with an eminent track record in leading international five-star hotels. My love for food and cooking started at a young age when my mother prepared meals for our family. The happiness around the dining table and the joy in the kitchen made a lot of memories. My home kitchen inspiration led me to become a passionate chef.

Why 'Food is an Emotion'

Food goes beyond basic nourishment; it's a powerful catalyst for emotions to which we share a deep connection. It serves as a bridge between our feelings, nutritional needs, thoughts, and social interactions. Whether we gather with family to celebrate the arrival of a new life or to mourn a loss, food is deeply connected to our emotions. It exists as a reliable companion in times of happiness, sorrow, solitude, and anger, making unforgettable memories in its wake. Beyond physical hunger, food has the remarkable power to nourish our hearts, influencing both positive and negative emotions.

My Experience

Over 20 years of experience in various leading five-star hotels in India, the Middle East, and Africa. I have experience as a specialist in pre-opening and opening hotels all through my career. Started with the first Marriott hotel in India and continued to grow with Hyatt hotels, Intercontinental hotels, and Starwood hotels. Currently with an international hotel brand as Pre-opening Executive Chef in the city under the sun Nairobi, Kenya. It is my 6th preopening hotel in my career journey.

Culinary Philosophy

I truly believe in using the freshest, locally sourced ingredients to create dishes that not only taste amazing but also support the local community. I was raised in a farming family in a small village in God's own country Kerala, India. So fresh home-grown ingredients are close to my heart. I love to experiment with flavors fall in love with my ingredients and craft storytelling dishes that create ever-lasting memories.

Inspiration

I draw inspiration through traveling around the world and diving into the local culture and food. Interacting with the local families or a street food joint brings the understanding of the uniqueness of the ingredients and the food stories from the people will take you through their culture.

Signature Dish

For me creating a signature dish that varies from country to country where I am locally present. In Kenya, my signature dish that reflects the rich and diverse culinary heritage of the country would be an excellent choice. Currently, my signature dish is "Mutura Arancini". Mutura is a local traditional delicacy, prepared in my style with an exclusive high-end twist. "Mutura Arancini" served crunchy accompanied with a delicious "Makhani Sauce" is a marriage between local delicacy and an international flair.

Purpose

"Love for Local" is a culinary philosophy that celebrates and promotes the unique flavors, traditions, culture, and talent of a region. This seeks to empower local food producers, farmers, artisans, and small businesses. By focusing on locally found ingredients and supporting small-scale producers, it inherently promotes sustainability. Collaborating with young aspiring chefs in the country is about fostering talent and nurturing the next generation of chefs. It provides a platform for young, aspiring culinary talent to showcase their talent, learn from experienced chefs, and contribute fresh perspectives to the local food scene.
Love for Local – Upendo wa Kienyenji:
Kwa muhtasari, uwekezaji wa Chef Ajok Zacharias katika "Upendo wa Kienyenji" na imani yake kwamba "Chakula ni Hisia" kwa kweli unaweka pengo kubwa katika ulimwengu wa upishi. Kupitia kujitolea kwao isiyo na kubadilika katika kupata viungo kwa kuzingatia eneo lao, hawasherehezei tu ladha tajiri za eneo lao, lakini pia wanachangia kwenye jamii endelevu na yenye uhai.
Uelewa wao wa chakula kama njia ya kuleta hisia na kumbukumbu kunawawezesha kuandaa sahani zinazowavutia si tu kwa ladha bali pia kwa kugusa mioyo, hivyo kuunda uzoefu wa chakula unaogusa kwa kina wapishi kwa kiwango kikubwa. Ushauku wa chef huyu kwa viungo vya kitamaduni na uwezo wao wa kuingiza hisia katika kila sahani wanayotengeneza unawafanya kuwa wasanii wa upishi wenye kina na vipaji vya kipekee.